Online Programs
Online instructor-led executive education from the comfort of your home or office
Online Executive Learning
Join our virtual classroom
Our courses are designed to bring you a rich, immersive, virtual learning experience featuring an interactive suite of synchronous (live) and asynchronous (self-paced) components, with content developed by top-faculty and industry experts.
Discover a range of online programs that address the top trends and changing needs of today's business world, including communicating, working well with people, and leading-edge programs on strategy and innovation.
The Mini-MBA Series Online
Image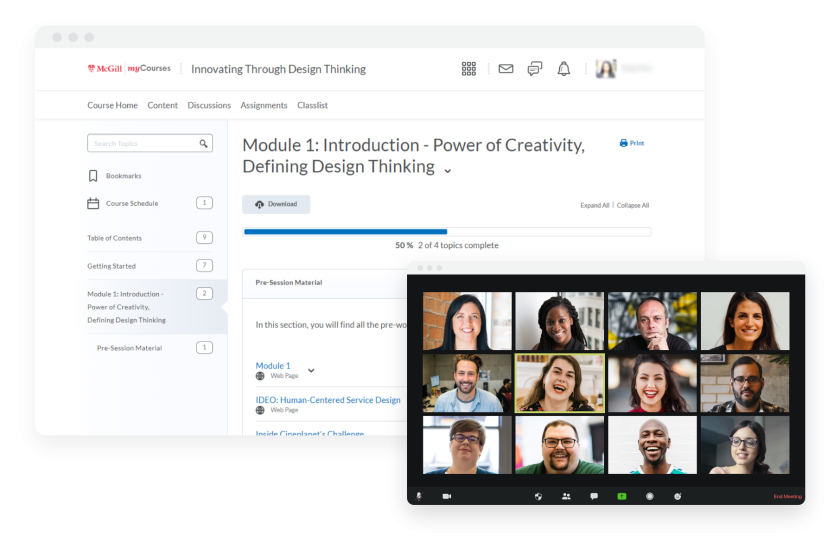 Why Choose McGill's Online Programs?
Designed to Inspire: Our immersive, action-learning approach ensures that objectives are achievable and that frameworks presented are immediately applicable to your work or life.
Designed to Engage: Our platform incorporates peer-to-peer sharing and collaboration to provide you with a variety of perspectives, encourage deeper understanding and build stronger connections within your professional network.
Designed with You in mind: Set your own goals and track your progress to enhance and accelerate your professional development.
The professors of the Mini-MBA bring so much strength to this program. Their passion is contagious and they put in the effort to keep the courses relevant and current. The program helped me bridge the gap by acquiring high-value industry skills, building connections and friendships, and prepared me for real-world challenges.
Participant in Advanced Management Course (AMC) – Online
We partnered with McGill University to deliver a Leadership Academy and while we delivered part of the program face to face, we had to quickly adapt to a new normal in offering training. McGill has exceeded our expectations in converting face-to-face training to a virtual delivery method.
Custom Training Program, Leadership Academy
I found this course incredibly valuable. If you are in a position of leadership and find yourself sometimes mystified in budget meetings, you need to take this course. I feel much more confident going into my next board meeting.
Participant in Accounting and Finance for Non-Financial Mangers – Online
Frequently Asked Questions
What will I receive upon completion of a seminar?

Following the completion of a seminar, you will receive a digital Certificate of Completion stating your name, the seminar title, and date—an important distinction and impressive addition to your CV, LinkedIn profile, and more. A physical copy of the certificate can also be mailed to you upon request.

The McGill Executive Institute offers special recognition in the form of an additional certificate when you complete any of our Comprehensive Programs, such as the Mini-MBA Series.
What will the online learning experience be like?

Online learning at McGill Executive Institute is powered by myCourses, a Learning Management System designed to engage, inspire and connect.

Our online courses feature a combination of synchronous (live) and asynchronous (self-paced) components, which you can complete from the comfort of your home or office. Prepare for live sessions with readings, videos, self-assessments and online discussions with your classmates. Join your peers in live, instructor-led sessions, where you will learn, connect and collaborate through group exercises, presentations and polls in real-time.

Each online program is designed to provide you with the perfect blend of faculty-led, self-directed and peer learning, to help you unleash your potential.
What technical requirements do I need to complete an online seminar?

For an optimal learning experience, you will need regular access to a computer with speakers, a microphone, a webcam and a high-speed internet connection. We also recommend setting up a dedicated, quiet workspace where you feel comfortable and can focus, preferably in a private room.
How do I register for a seminar?

You can register for our programs Online. On the program page, click "Add to Cart" next to the dates desired, and then enter the required information. At the "Payment Method" section, you can pay directly by credit card or by various other payment methods. If you need assistance with registering, please email us at executive@mcgill.ca.
Can McGill Executive Institute offer customized online training for my company?

Yes. In fact, over half of the Institute's work involves delivering customized learning solutions to an organization or team. Our team can work with you to create an impactful learning experience tailored to your specific talent needs, delivered in a format that fits your organization's needs and goals. Learn more about our Custom Solutions, or contact us to get started.
Do you offer any free online learning resources?

Yes! To help support our global learning community, we launched Level Up, a free online micro-learning series that looks at the latest thought leadership around people, performance, processes, strategies and self-management. Watch the free webinars here.